'Our relations with cities are like our relations with people. We love them, hate them, or are indifferent toward them. On our first day in a city that is new to us, we go looking for the city. We go down this street, around that corner. We are aware of the faces of passers-by. But the city eludes us, and we become uncertain whether we are looking for a city, or for a person.'
Victor Burgin, Some Cities, 1996




A collection of drawings, notes and photos
A personal experience
An attempt of explaining the inexplicable
to grasp the elusive
looking for a foothold outside
an object, a street, a person, yourself.

North London, 2021.

PLAYLIST
1. Clinging, Hammock 2. Dancing Barefoot, Patti Smith 3. Stuttgart, Marlow and Trüby Refix 4. Breathe, Kartell Slow Remix, 5. Parfait Tirage, Paradis 6. Fish, Amir Bresler 7. Sogno, Patty Pravo 8. Alive, Pearl Jam 9. Scar Tissue, Red Hot Chili Peppers 10 Town Called Malice, The Jam 11. A Song for the lovers, Richard Ashcroft 12. Romance Part I, Amanda Brown 13. Moving, Supergrass 14. Walk on by, Dionne Warwick
SHE HAS A VERY NICE BUNCH OF FLOWERS
PINK, CHALK, OLIVE, FUCHSIA, WHITE
COLORFUL
ARE THE FLOWERS FOR HERSELF?
DOES SHE WANT TO PUT THEM IN THE KITCHEN?
DOES HER KITCHEN HAS A BIG WINDOW?
MAYBE SHE BOUGHT THEM FOR SOME LOVER.
SHE IS WAITING AT THE BUS STOP
HER FACE IS SO WET
SHE IS PROBABLY FEELING VERY WARM
A QUICK LOOK AT THE TIME ON HER WRIST WATCH
I WOULD LOVE TO KNOW WHAT WILL HAPPEN TO THE FLOWERS
A: WHAT A GREY DAY
WHY DID I DECIDE TO COME OUT?
B: BECAUSE YOU NEEDED SOME FRESH AIR,
YOU NEEDED TO WALK
SOME SPACE
A: YES, BUT THIS IS FAR FROM FRESH
I AM FREEZING.
They're sitting on a bench
close, but distant
she has long brown hair
she seems so bored
Him, instead,
he seems to care
She is clearly breaking up with him.
ORANGE T-SHIRT
A LONG, CURVED NECK
HE WAS CARRYING AN HEAVY, YELLOW
PLASTIC BAG
HIS HEAD DOWN, LOOKING AT THE GROUND
EVERY ONCE IN A WHILE
HE WOULD PULL HIS HEAD UP
AS HE NEEDED TO CATCH HIS BREATH.

THE MAN WALKING UNDERWATER.



20:15 PM
ONE OF MY FAVOURITE TIME OF THE DAY
THERE IS STILL LIGHT
THERE IS STILL TIME
THE SKY IS A SORT OF PINKY-ORANGE
ALL OVER
BRICK HOUSES
THE WINDOWS ARE COLORED BY AN INTENSE BLUE
I CAN HEAR ANIMALS: FOXES, BIRDS, INSECTS
LESS THE CAR ENGINEES
I LIKE THE SOUND OF THE WIND BETWEEN THE LEAVES
OF THIS BIG, GREEN TREE

I AM HOLDING MY BREATH


One parent says to the other
Let's go now, kids are tired.
A nice, quiet Sunday at the park
An old man and a young woman
silently drinking coffee on a bench
He is holding a book in his hands
She is wearing big eyecat sunglasses
like in the Thelma and Louise 's movie
legs crossed
a very nice, quiet Sunday.

I just went out to go to the closest grocery store
I run out of milk
oat milk
the one with the blue carton
the only one I like with coffee
It's 4:00 PM when I see her
she is smiling at her smartphone
not looking at the road
Who you're smiling to?

THE UNMISTAKABLE SMELL OF FAST FOODS
THAT FILL THESE STREETS
THE FIRE CARS ALARM
IT IS INTERRUPTING THE CLASSIC MUSIC PLAYING IN MY HEADPHONES,
IT IS SO CLOUD

I THINK I SAW HER TWICE, ON HER SCOOTER
WEARING SUCH A COLORFUL SHOES
RADICAL CHIC GIRL
THE WIND ON MY FACE
MOVING MY SHIRT, MY SHITTY HAIR
I'M PASSING THE PLACE WHERE I ATE YESTERDAY
TWO GUYS SITTED OUTSIDE, LOOKING AT THE STREET
BLANCK GLANCES
Bored people smoking their cigarettes down to the filter
I AM FEELING HOT, I NEED TO TAKE MY JUMPER OFF
I DON'T KNOW WHAT TO WEAR ANYMORE
THE WEATHER IS CRAZY
- obvious phrase -
CIGAR
ANOTHER F*****G EMAIL IN MY PHONE
MICHAEL JACKSON ALBUM THRILLER ON SPOTIFY
CAUTION GUARD DOGS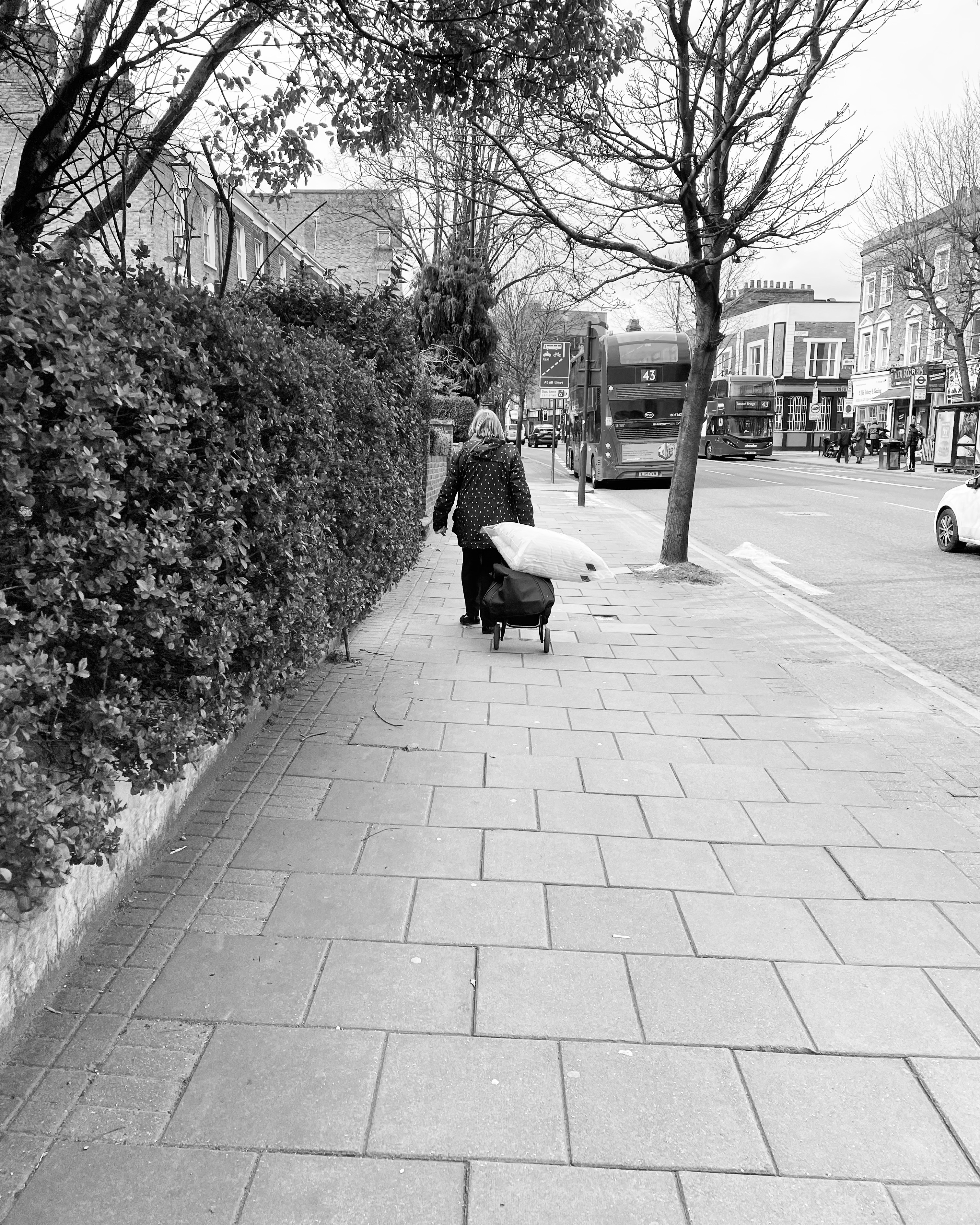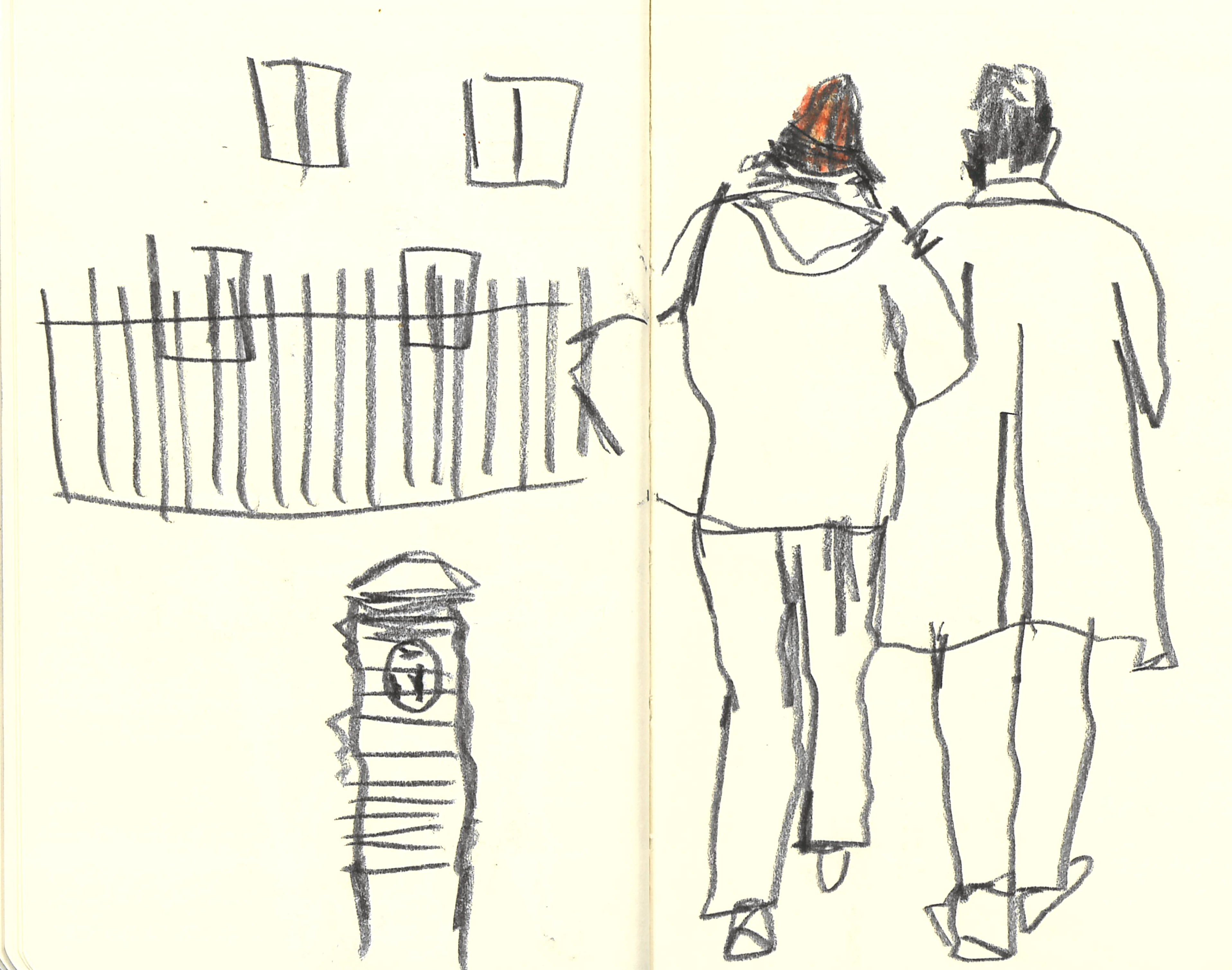 10 THINGS I LOVE ABOUT LONDON

1. 19:30 PM LIGHT
2. THE END OF THE DAY
3. THE SMELL OF SOMEONE'S COOKING IN THE COUNCIL HOUSE
4. THE WIND WHEN IT IS SUNNY
5. THE COLORS OF THE BRICKS
6. PEOPLE THAN DON'T SEE ME
7. WALKING ALONE WITH MUSIC IN MY HEADPHONES
8. SOMEONE SMOKING WEED FROM THE WINDOW
9. GROCERIES STORES
10. FREEDOM

It does feel like home.
A: How do you feel walking these streets?
B: Alone.
Alone, not lonely.
A: What are you looking for out there?
B: Nothing and everything. Sometimes it's a quiet place where to rest, other times is a person, to share a fleeting moment with.
Sometimes I just realize I am looking for myself in all of this, if that makes sense.
Have you ever felt close to a stranger
just because you look into his eyes and something click
just because he puts a smile on his face and you immediately feel happy for him
just because he is running your same street
or walking the same side of footpath.

Have you ever seen someone crying and feeling the need to hug him
or to say a nice word
as if he were your friend
Just because
we are all running away from something
thinking about someone
carrying heaviness.



YELLOW ALL STARS
I NEVER HAD A PAIR OF ALL STARS LIKE THIS
THEY SEEM COOL JUST ON OTHER PEOPLE
NOT ON ME
ARE YOU GOING TO WORK WITH THESE SHOES?
I SEE YOU ALSO CARRYING A BACKPACK
MAYBE YOU'RE A STUDENT
LIKE
A 40 YEARS OLD STUDENT

OLD MAN
BIG EARS
NEVER SEEN EARS SO BIG BEFORE
LONG, WHITE BEARD
I CAN SEE HE HAS A NERVOUS TICK IN THE HANDS AND FEET.
HOW DO YOU FEEL ABOUT ME WATCHING YOUR TICK?
ARE YOU EMBARASSED?
A TICK IS NOT A WEAKNESS YOU KNOW
I FEEL COMPASSION

SHALL WE GO TO SANDRA'S PLACE TONIGHT?
MIND YOUR WALLET!
WELL WELL WELL
GOOOD BOY
MY BROTHER LIVES IN WASHINGTON
SORRY I'M RUNNING LATE!

8:40 AM
WAITING FOR THE BUS IN A LONG BLUE DRESS
Seven Sisters Road is a road, in North London, England, which runs within the boroughs of Islington, Hackney and Harringay.
It is an extention of Camden Road.
Authorised in 1829 and constructed in 1833.
The Seven Sisters were seven trees located opposite its junction with Tottenham High Road.
Wikipedia
THE ROAD IN THE MORNING IS VERY CROWDED AND MESSY
YOU CAN SEE PEOPLE ALL AROUND
A BLACK WOMAN WITH A BIG JAMAICAN SCARF AND GROCERIES IN HER BAG
JUNKIES WAITING AROUND THE CORNER
A LONG QUEQUE OUTSIDE POUNDLAND
MANY DIFFERENT SKIN COLOURS
DRESS UP GUY WITH BIG MARSHALL ON,
CARING OF NO ONE
THE STRONG SMELL OF BELLA BUTCHERS MEAT
TRAFFIC

IN THE NIGHT ALL THIS DISAPPEARS

SOME PEOPLE ARE WALKING FAST ON THE SIDEWALK
SOMEONE IS HIDING IN THE SHADOW
SHOPS ARE CLOSED AND DELIVEROO MEN HAVE FINISHED THEY SHIFTS
GOD KNOWS WHAT HAPPEN IN THE MIDDLE OF THE NIGHT

6:00 AM AND THE POST OFFICE RAISES HIS SHUTTERS AGAIN.

Not a lot of people around this morning
Nothing to draw
A beautiful hedge of white flowers
garbadge
on the other side of the road
Red shirt and thick sunglasses
Trying to put her mask on
Goodmorning
Sweet, old woman
She could be my grandmother.

I hate pigeons
I always did
I don't know why
actually I do know
because they're so dirty
like rats with wings.

Recently I discovered
if you are in a quiet place
their noise could be very relaxing.
I think I know this man
I have seen him before
he works at the Post office
I dropped a few parcels there lately.
Oh this is nice
unicorn pijamas
kids going to school
A newspaper left
My mum would love these flowers
I don't remember the name now
the pink one
the big one
we keep them in our garden, in Italy
they don't have a particular smell
they're just beautiful.
A runner
with a line on her back
she's got tanned
with different tops
I AM NOT FOLLOWING YOU
BUT MAYBE YOU THINK IT IS SO
AND THAT'S OKAY
I TOOK A PICTURE OF YOU
FROM BEHIND
I NOTICED YOUR BROKEN SHOES
THE PAINT STAINS ON YOUR TROUSERS
YOU'RE TALKING AT THE PHONE
A LANGUAGE DIFFERENT FROM MINE
YOU CLOSE THE GATE BEHIND YOU AND
SMILE AT ME

A FATHER
PULLING
A SAUSAGE DOG
FOLLOWED
BY A TIRED
KID
SOMETIMES I THINK ABOUT
WHAT PEOPLE WOULD THINK OF ME
WHEN THEY SEE ME
TAKING PICTURES OF THEM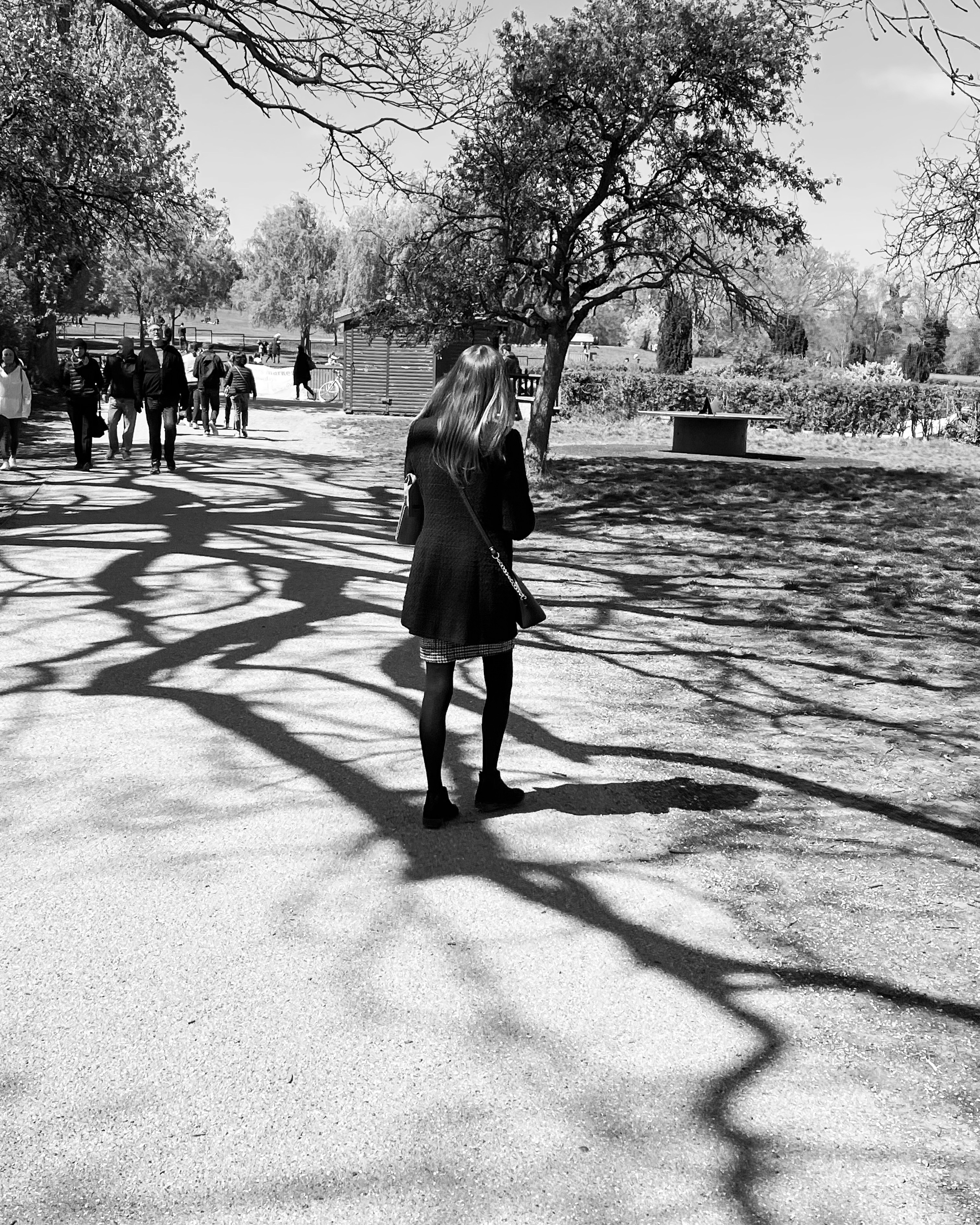 I CANNOT
STOP
THINKING
He has just picked up
a fag end
from the street
a beer in his hand
purple face and a wool beret
Should I get a coffee?
9:00 AM IN UPPER STREET
OLD WOMAN STANDING
IT IS NOT THAT WARM OUTSIDE
THE SKY IS GREY
IT WILL START RAINING SOON.
SHE IS THERE, STANDING STATIC
HER ARMS FOLDED
WHAT IS SHE LOOKING AT?
I TURN MY HEAD FOR A MOMENT
SHE'S ALREADY GONE
I SEE
LITTLE GIRLS PREPARING FOR BALLET,
I AM OVERWHELMED BY AN IMMENSE TENDERNESS.


4:00 PM TUFNELL PARK
THERE IS THIS MAN IN FRONT OF ME
HE IS WALKING HIS DOG
BEING VERY NICE WITH HIM
COME ON PRINCESS, ARE YOU COMING?
I TURN MY HEAD
OH NO SORRY! I WAS TALKING TO THE DOG!

5:30 PM HOLLOWAY ROAD
I AM WAITING FOR MY SUSHI TO ARRIVE
WHEN I SEE HER
SHE IS WEARING A FLORAL PATTERNED SHIRT,
A DENIM SKIRT
AND ANKLE BOOTS
THERE IS SOMETHING ABOUT HER
THAT MAKES ME THINK SHE IS REALLY YOUNG,
BUT SHE WANTS TO LOOK OLDER
PROBABLY HER CLUMSY WAY
TO SMOKE HER CIGARETTE
OR TO WALK ON THOSE HEELS

SHE IS PROBABLY GOING ON A DATE
OR TO A PARTY
GOOD LUCK DARLING.


I am sitting on a bench
while my boyfriend is getting a haircut
the guys are italians
from Naples
they offered me a coffee while waiting
She is carrying a carriage
Can I see?
Inside the carriage a white rabbit
He can feel the spirit of his death dad
and he gets anxious
I can't live him alone in the house

You probably think I'm crazy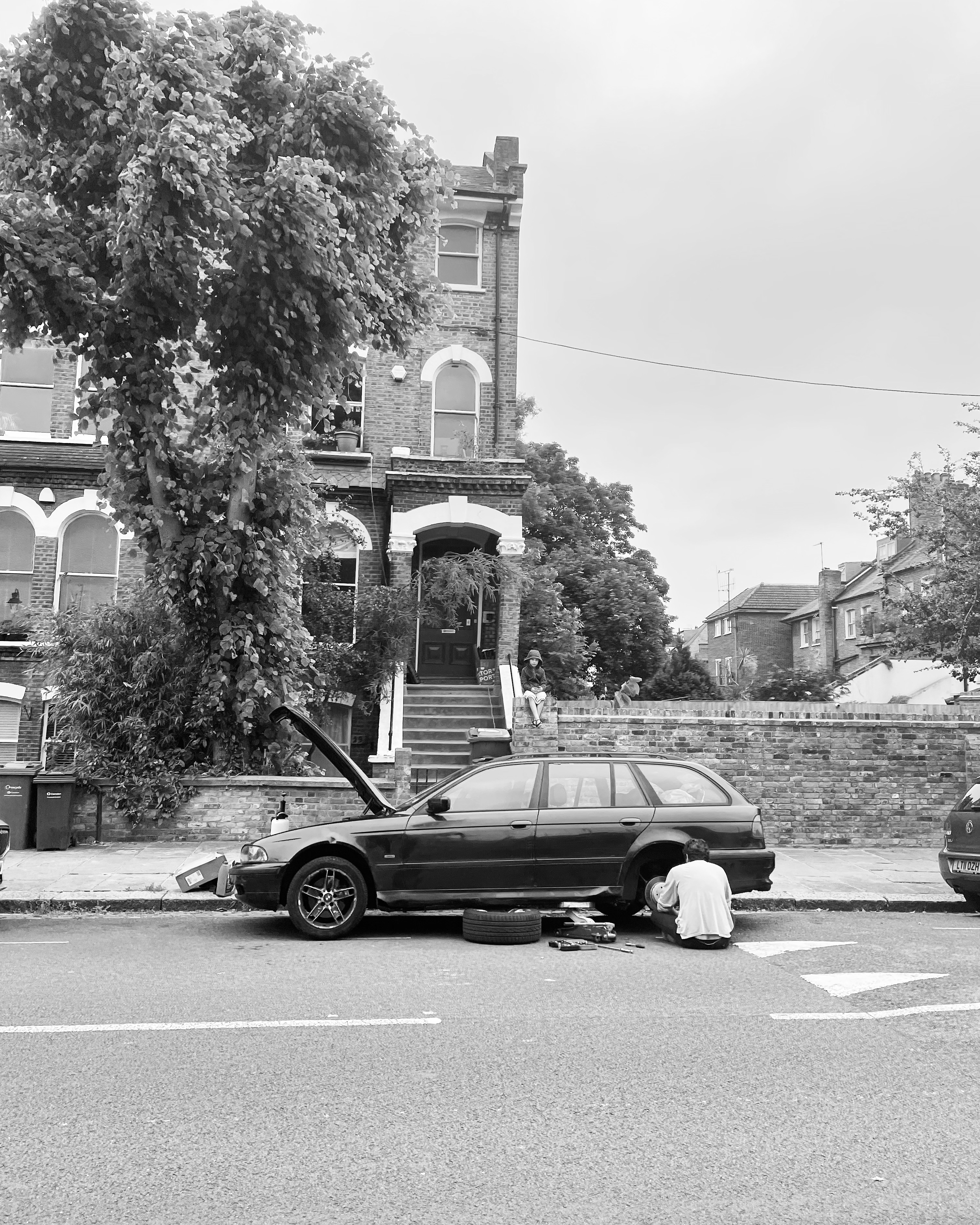 There is this girl
long hair in braids
always the same clothes
same scarf
same wide pants
same flip flops
a walkman in her hands
same street
at the same time.
I dont' know if she talks to herself
or to someone imaginary
or even both.
Does she have a family?
Where is she going all the time?
The woman with two dogs
a sausage dog
a newfoundland?
The old woman with the hair growth
pushing the shopping cart
she seems so fragile
I saw her a few times
she should live nearby
How can someone like her being alone
nobody on her side
helping her
supporting her
just being...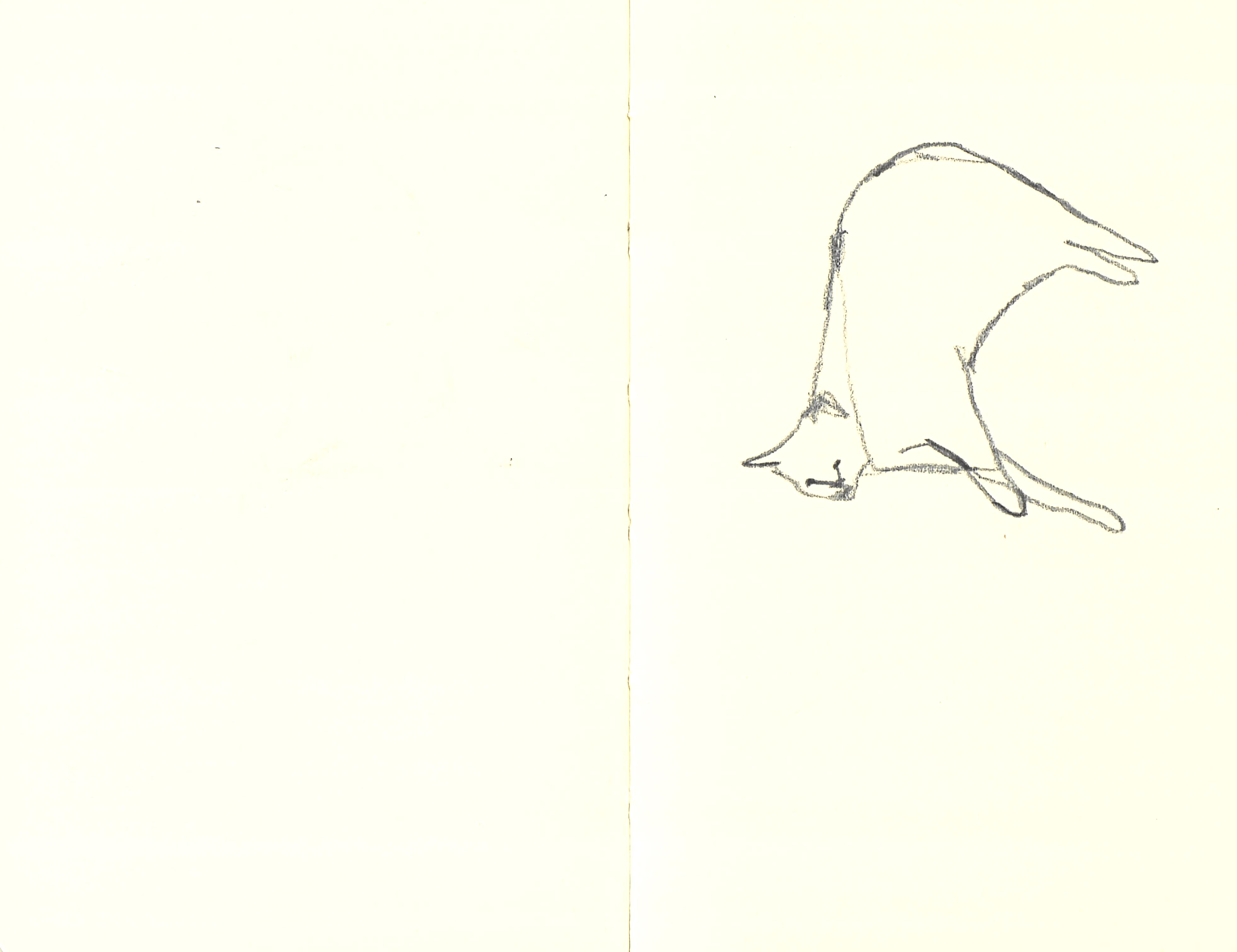 If you wait
a lot of things
can still happen
even in a small park
you just have to be patient.
There we go
she's approaching me.
A purple
long
skirt
with a tear.
She's now feeding the pigeons.
I AM FEELING VERY TIRED
EVERYDAY IS SO FLAT
EVERY JOURNEY SEEMS THE SAME TO ME
MY MOOD IS SO UP AND DOWN
SOMETIMES I LOOK AT THESE STRANGERS
AND I DON'T FEEL ANYTHING
AT ALL
APATHY

I FORGOT TO CALL HER AGAIN
Don't want to wait
Lord, I've been waiting all my life but I'm too late again
I know but I was scared
Can't you see, oh, I'm moving like a train, into some foreign land
That you got on
A ticket for this ride, but I will
Ooh, this is a song for my lover, tonight
Today, play a song for my lover, tonight
Richard Ashcroft, A song for the lovers
It's pretty late
I had a few gin t's
I am on my way home
Oh god he has something that reminds me...
The same glasses and the same berret
probably same age.
Something is crushing my heart.
I miss you.
Big man
long hair.
He is looking at his phone
suddenly he moves away.
I can barely see him now
between the hedges.
I see him with a boy
He disappeared.
43 Friern Barnet
17 Archway
263 Barnet Hospital
271 Highate Village
Waiting crouched at the bus stop.
Her feet are in pain
because of her high heels
for sure.
Long brown hair gathered in a tail
a messy, random outfit
cool in its way.
She is smoking her cigarette
looking at the street.

30 towards London Bridge.


A MAN WITH A BLUE T-SHIRT ARRIVED
WHILE I WAS SITTING DRAWING
AT THE PARK
HE SAID SOMETHING TO ME ABOUT THE WEATHER
HOW LUCKY ARE WE TODAY?
WE ARE JUST MISSING A GLASS OF WINE
HE'S GOT TWO DOGS
PITBULL I GUESS
THE DAD AND THE PUPPY.
ANOTHER GUY JOINED US
WITH A GIANT DOG
LIKE THE ONE IN HARRY POTTER
I DON'T REMEMBER THE NAME
ANYWAY
THE GIANT DOG WAS BOTHERING THE PUPPY
THE DAD WAS GETTING ANGRY
THE BLUE T-SHIRT MAN
PISSED OFF, LEFT.

Why there are so many people
feeding the pigeons?
Are they looking for company?
Faber castell
black pencil
Muji 0.5mm pen
watercolours
on paper
THE ORDINARY
I SAW YOU OTHER TIMES
YOUR CURVED BACK
YOUR FADED JACKET
YOUR EYES CLOSED
WHAT ARE YOU WAITING FOR
Wearing a mustard coat
you are avoiding the line
between the two tiles
I used to do the same when I was a kid.
GINGER CURLY HAIR
SMOKING HER CIGARETTE
PROBABLY ON HER LUNCH BREAK
IT'S COMING ROME FLAG
AT THE WINDOW
GARDEN INSIDE
SHE PROBABLY WORKS THERE
IT'S 2:00 PM.

7:30 AM
LOOKING AT THE GROUND
HIS HEAD CURVE
ALL IN RED
THE BAKERY IS QUIET STILL
THE ROAD TOO
HELLO MY FRIEND
MAYBE IT'S TIME FOR YOU TO WAKE UP
YOUR DOG NEED TO PEE AND
YOU'VE GOTTA WORK TO DO.

She is eating her lunch alone
in the public garden
close to the church
St Mary's Church?
Nice stripes t-shirt
Muji?
She is pretty small with grey hair.

8:30 PM
Empty streets.
There is a woman looking for something
maybe she lost a pair of precious earrings
her grandma earrings.
Gold rings with red rubies.
Or maybe
she's the one who got lost.

SHE IS IN COMPANY
BUT SEEMS SO ALONE, TO ME
SOMEWHERE ELSE
DENIM GIRL

I'm quietly sitting at the park sorrounded by birds and flowers
but all I wanna to do is scream.





Things are not always as you see them.
I'm actually having a breakdown watching these butterflies flying.

IT IS JUST ME TODAY

THAT DOG HAS THE SAME FUR COLOR OF HIS OWNER





Thames Water man
A runner
A couple
Dog owners
Workers
A window cleaner
Kids playing
Woman expecting a baby
Violet hair
The Carpenter House
Upwind






Sometimes
when I come back home
I see him
He is very tall
always wearing
black t-shirt and black pants
He has a secure walk
He is entering the closest off licence
I was wondering where he was going
barefoot
he bought some Coca-Cola



I think it's already been an hour at least
since I met you
and we started talking
and I still
don't know your name.


IF YOU SEE ME
WALKING DOWN THE STREET
AND I START TO CRY
EACH TIME WE MEET
WALK ON BY
Dionne Warwick, Walk on by
I don't know you
but I'm pretending I do
because I am watching you
holding her hand.
I can see your eyes tired
meanwhile
this city is running fast.
I can hear you making plans
for tomorrow's night
with your friend.

I turn myself and you're already gone.
*Walk (Oxford Dictionary)
move at a regular pace by lifting and setting down each foot in turn, never having both feet off the ground at once.
Sophie Calle, Suite vénitienne, 1983
top left:
Georges Perec,
An Attempt at Exhausting a Place in Paris
, 1982
bottom right:
Roland Barthes,
A Lover's Discourse: Fragments
, 1977
Elisabeth Tonnard, In this Dark Wood, 2013

Victor Burgin,
Some cities
, 1966
Arseny Tarkovsky, Poetry and Film: Artistic Kinship Between Arsenii and Andrei Tarkovsky, 2015


Gaston Bachelard, The Poetics of Space, 1958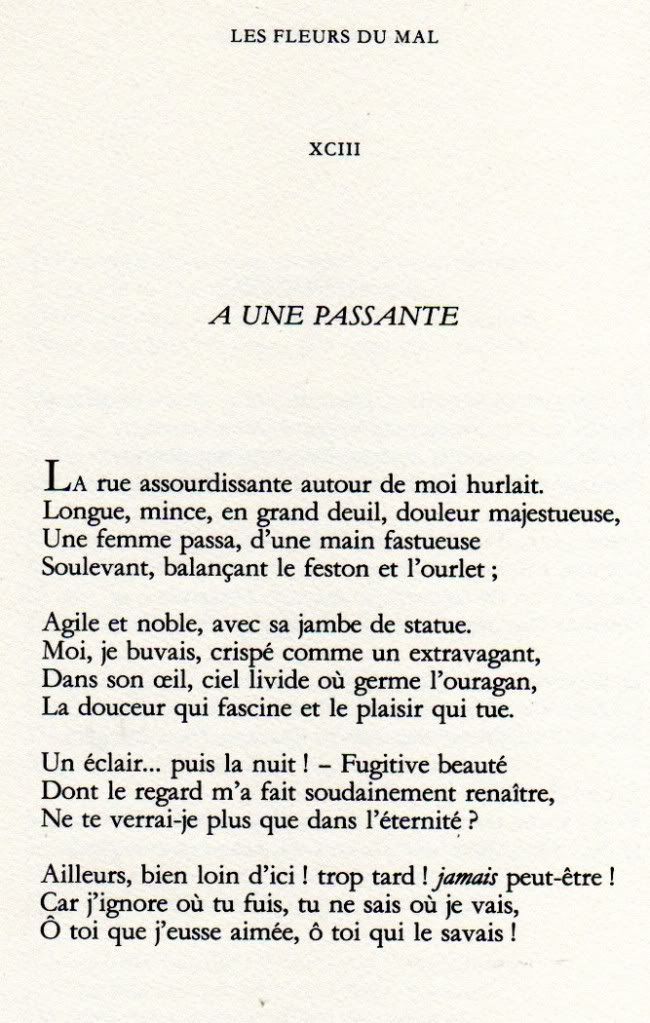 Charles Baudelaire, Fleurs du mal, 1857
Francis Alys , Seven Walks, 2005